Our Property | Email Us | Rates/Availability | Features
| Website | Map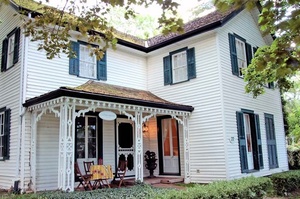 Copyright © 2013 THE FLYNN HOUSE



THE FLYNN HOUSE
22 Johnson Street
Niagara-on-the-Lake
Ontario Canada
L0S 1J0
Host(s): Michael Reigber & Luisa Mastrangelo


Ph: 416-459-2849 or 416-231-4646
Welcome to
THE FLYNN HOUSE
in Niagara-on-the-Lake
Ontario Canada
General Description
The Flynn House is situated steps away from the quaint downtown Queen Street area where you will find world class restaurants, the Shaw Festival and local boutiques. It is also conveniently located near some of Ontario's most famous wineries.
It was built in the 1860's by George Flynn (a shoemaker) for his family and later during World War II, it was the meeting place for the Knights of Columbus. Rich in history, the home has recently been restored to feature modern amenities while maintaining the property's old world charm such as wide plank floors and French doors.

The Flynn House sleeps up to 8 people and features three modern bathrooms, three bedrooms, a large dining room and living room and a fully equipped kitchen.

We offer a smoke-free, pet-free environment. All towels and linens are included. Open year-round.
QuickFacts
• Lovingly restored home in a prime location
• Three bedrooms, sleeps eight, three bathrooms
• Large dining room and living room with a wood burning fireplace
• Fully equipped kitchen
• Natural gas heating and central air conditioning
• Laundry facilities
Standard Policies
Check In:

4:00p.m.

Check Out:

11:00a.m.

Cancellation:

• 25% deposit by VISA or MasterCard is required to confirm a reservation,

• remaining balance is due one month prior to check in date,

• IF YOU CANCEL, PLEASE CALL US IMMEDIATELY AT:
416-459-2849.

There will be a $50 cancellation fee.

If cancelled in the last 30 days of arrival, you forfeit the deposit amount.
Local Attractions
Location Map
View Larger Map
Directions
Cottage Details
Number of Guestroom(s):
3
Number of Guests Permissable:
8
Property Amenities
Barbecue (Gas Powered), Cable Television Onsite, Cottage is Air Conditioned, Casual Dining Within Walking Distance, Family Dining Within Walking Distance, Fine Dining Within Walking Distance, Historic Building, Laundry Facility Onsite, Free Parking Onsite, Starbucks Within Walking Distance, Suitable For Guests With Children, Treed Lot, Winter Destination, Wi-Fi Wireless Internet Onsite
Languages Spoken
English, Italian,
Website
Advertisers