McFarland House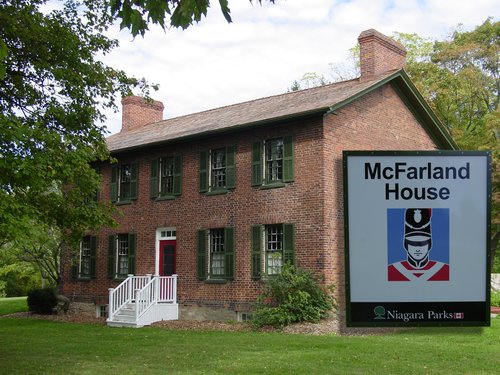 15927 Niagara Parkway
Niagara-on-the-Lake Ontario
L0S 1J0 Canada


Visit Niagara Parks' Oldest Property

For more than two centuries McFarland House has stood as a monument to the impeccable manners, good taste and gracious living that epitomizes Niagara-on-the-Lake.Visit us and experience a taste of Georgian style and pace. Qualified costumed interpreters provide guided tours of this historic home throughout the day.

Come visit this gem - built in 1800, the House is the oldest property owned by The Niagara Parks Commission.

Located in a picturesque park setting with playground facilities and a baseball diamond, the House is adjacent to the Niagara River Recreation Trail. McFarland Park also offers a covered picnic pavilion which seats approximately 250 people, with water and washroom facilities nearby.

In preparation for the Bicentennial of the War of 1812 McFarland House has undergone some much needed renovations since last season. This is the first occasion that such large scale improvements have been made to the property. The house was last renovated in 1955 before the site opened to the public in the spring of 1959.

We are very proud of these enhancements to our facilities which will allow us to better serve our guests. We have built a new historically inspired conservatory, created modern washrooms, and drastically renovated the interior spaces within the back wing of the home to make the property more accessible and welcoming for all who come to visit.








Return To History


---

The content of our business and attraction directory appears by courtesy and
generous assistance of the lodging owners of this website. Please view our
Niagara Business and Attraction directory author credits page


Featured Lodgings

KIA-ORA
BED AND BREAKFAST



You never really leave here...you just go home for awhile.



NATAYA B&B



Where Our Home Is Your Home!



WINE COUNTRY
BED & BREAKFAST



It is a perfect package, beautiful rooms and superb breakfast. Karen and Joe, Toronto, ON



SERENDIPITY B AND B



At Serendipity you may arrive as a guest but you will leave as Family!!